The UK banana market's last full year as part of the EU-28 underlines the increasing diversity of sources of our bananas, far more diversified than any other EU member state. This almost certainly relates to buyers' perception of the real risks of climate and disease disruption: sourcing from a diversity of geographical regions as a way of managing that risk. However, the total import volume is considerably down on some previous years (record import levels reached over 1.1 million tonnes a few years ago).
The leading role played by Colombian bananas in the UK market over the last decade or more is confirmed, with Costa Rica still in second place. Dominican Republic volumes have reduced compared to recent years (mainly organic, but also conventional), suggesting that some buyers are acting on still unresolved reputational risk issues concerning illegal Haitian migrant workers. The UK has also ceased to be the dominant market that it was for DR bananas, representing less than 40% of all DR exports, compared to close to 60% a few years back. Ecuador has consolidated its position as fourth biggest origin, mainly because of the importing strategy of the UK's largest retail chain, Tesco.
Africa's share of UK imports has slightly fallen – to 8.5 from 10% a few years' back – as some buyers have reacted negatively to perceived issues of low wages, especially in the case of Côte d'Ivoire, and to real political risk in the specific case of Cameroon.
Other Central American sources (notably Guatemala and Nicaragua) have gradually emerged in the last five years, as import tariff reductions and lower costs of production have made these sources more competitive from a purely financial point of view. Mexican volumes are mainly organic Fairtrade certified fruit from Colima.
As to how the now enacted 'Brexit' will affect the geographical distribution of the UK's banana imports is anybody's guess! No buyer, however well-informed, is in a position to make a plausible call. Tariff issues will necessarily be influential in buying decisions from next year, but the geographical diversification of sourcing by the top ten multiple retail chains is here to stay; and these chains continue to call the tune, more so than ever, with over 90% of sales.
Older consumers in the UK doubtless remember the days – as the European Union under British presidency agreed its single market import regime – when more than half the country's imports came from the small-scale family farmers of the Windward Islands of St Lucia, St Vincent and Dominica. Many will also remember the shift to Fairtrade labelled bananas from these same Eastern Caribbean islands in the 2000s. But today only St Lucia exports and the volume is less than 1 % of total imports.
As predicted by the inter-island Windward Islands Farmers Association
(WINFA) back in 1992, when the EU started discussing how to harmonise all its different trade arrangements into a single import policy, "the cold winds of free trade will sooner or later blow across our islands and threaten the livelihoods of farming families that are the backbone of our countries". This is, twenty years and more later, precisely what came to pass.
Only one UK retail chain remained faithful to the small farmer bananas from the Windward Islands, whilst the company established with the original intention of benefiting those small family farmers, now imports almost all its volume from its major Caribbean lower-cost competitor (the Dominican Republic) and from Colombia etc. This was in response to retail buyers' demands following the almost total collapse of exports from the Windwards themselves. Farmers themselves in all three islands, increasingly women-headed farm households, have no choice but to try and continue to sell, but to the local and sub-regional market in the Eastern Caribbean, with WINFA's support. But the total collapase of the tourist industry has put an end to even that trade for the time being.
As ever, in this world where the fruits of the former "green gold" have been claimed by players other than the growers themselves, rural households are obliged to reinvent their future once again in order to survive.
---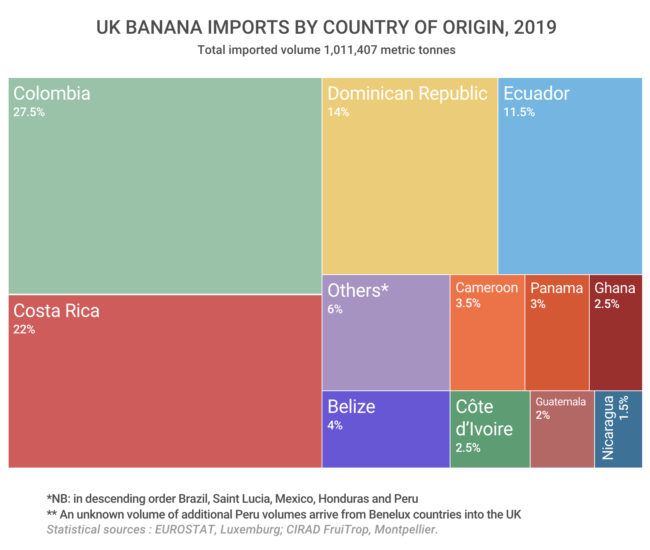 ---
---
---